Kansas City Library in Missouri, USA
The Community Bookshelf is a striking feature of Kansas City's downtown. It runs along the south wall of the Central Library's parking garage on 10th Street between Wyandotte Street and Baltimore Avenue. The book spines, which measure approximately 25 feet by 9 feet, are made of signboard mylar.
WonderWorks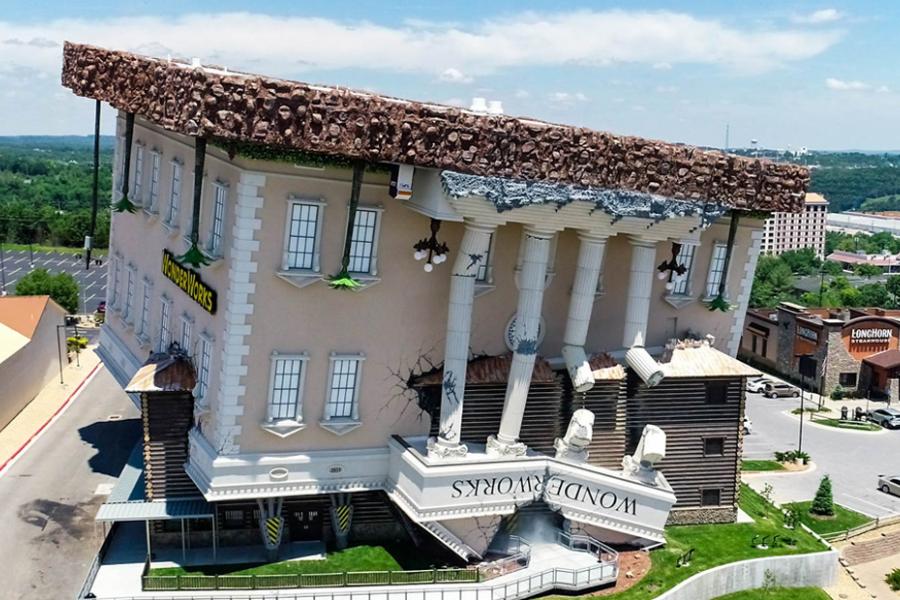 WonderWorks is an entertainment center focused on science exhibits with six locations in the United States. The company's slogan is "Let Your Imagination Run Wild". Its buildings are commonly built as if they are upside down. The experience is considered an "edu-tainment", a combination of education and entertainment.
The Church of Hallgrimur in Reykjavik, Iceland
Hallgrímskirkja is a Lutheran parish church in Reykjavík, Iceland. At 74.5 metres tall, it is the largest church in Iceland and among the tallest structures in the country. The church is named after the Icelandic poet and clergyman Hallgrímur Pétursson, author of the Passion Hymns.
Ideal Palace, Hauterives, France
Ferdinand Cheval was a French postman who spent thirty-three years of his life building Le Palais idéal in Hauterives. The Palace is regarded as an extraordinary example of naïve art architecture.
Lotus Temple in Delhi, India
The Lotus Temple, located in Delhi, India, is a Bahá'í House of Worship that was dedicated in December 1986. Notable for its flowerlike shape, it has become a prominent attraction in the city. Like all Houses of Worship, the Lotus Temple is open to all, regardless of religion or any other qualification.
The Crooked House, Sopot, Poland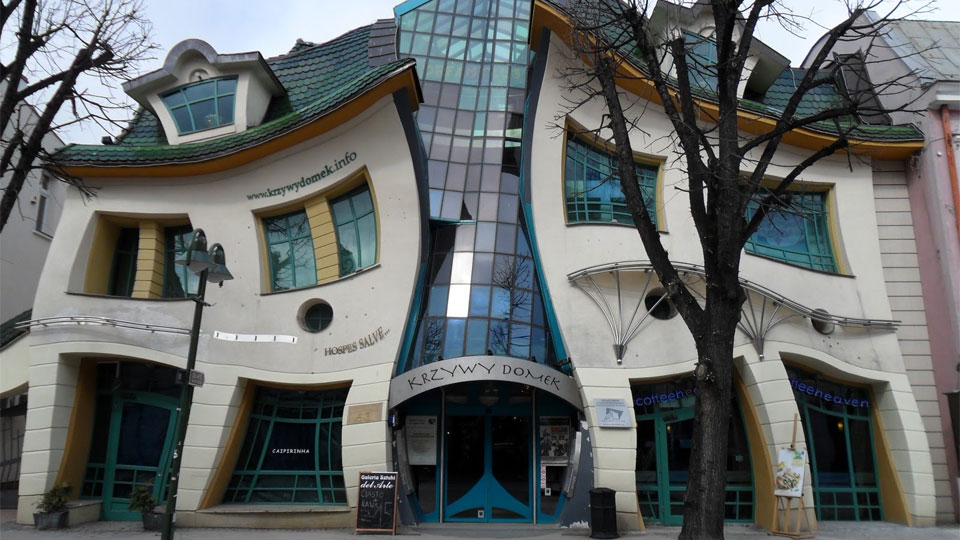 Krzywy Domek is an unusually shaped building in Sopot, Poland. Krzywy Domek was built in 2004. It is about 4,000 square meters (43,000 sq ft) in size and is part of the Rezydent shopping center.
Casa Terracota, Colombia

Casa Terracota is entirely built by hand through clay and parched in the sun. Located in a regal mountain village of Colombia, this unusual structure is also known as the 'Casa de Flintstone' or Flintstone House by locals. It appears like a large mound of clay, freely shaped to look like a cottage. This weird structure is surrounded by lush green farmland and positioned against a spectacular setting of the mountains.
Habitat 67 – Montreal, Canada
Designed by architect Moshe Safdie, Habitat 67 is a very unusual looking housing complex in Montreal, Canada. It is a combination of 354 identical concrete forms assembled in a soothingly asymmetrical manner. This weird structure has 146 residences, which vary in size and configurations. From a distance, Habitat 67 looks even more attractive, but it's just a housing complex!
Cybertecture Egg Office Building, India
The building is designed by a firm based in Hong Kong. The building boasts of an iconic architecture complimented with environmental design, excellent control systems, and evolutionary engineering. These features create the most exclusive building for the city of Mumbai.
Basket Building, USA

Built in shape of a giant basket, Basket Building is a beautiful structure and a visual treat for those seeking to admire unique things of the world. Situated in Ohio, USA, it is among some of the weird structures of the world housing the headquarters of Longaberger Basket Company. The unique building is an exact imitation of a normal shopping basket and 160 times larger than a Longaberger's medium basket. Due to its exclusive shape, it turned into one of most prime tourist attraction points of the city. With a wonderful design preserving all the details, this unique building has two attached handles.