Seychelles
Seychelles, island republic in the western Indian Ocean, comprising about 115 islands, with lush tropical vegetation, beautiful beaches, and a wide variety of marine life. Today, Seychelles boasts the highest nominal per capita GDP of any African nation. It has the second-highest Human Development Index of any African country after Mauritius. It is one of only two African countries classified as a high-income economy by the World Bank (the other being Mauritius). Seychelles is a cluster of charming islands found in the warm waters of the Indian Ocean, off East Africa.
Rome
When you visit the Eternal City, prepare to cross a few must-see attractions – including the Colosseum, the Trevi Fountain and the Pantheon – off of your bucket list. Additional treasures, such as St. Peter's Basilica and the Sistine Chapel, can be found in nearby Vatican City. Escape the tourist crowds by taking a twilight stroll along the cobblestone streets of Trastevere, or head to Mercato Centrale Roma to sample local delicacies like gelato and pizza. Before leaving, peruse some of Rome's lesser-known museums, art galleries and boutiques.
Maldives

It is not cheap or easy to reach, but this isolated paradise between the Arabian and Laccadive seas is the personification of a dreamy tropical vacation. In this South Asian destination, which is made up of more than 1,000 islands, thatched-roof bungalows sit above crystal-clear aquamarine waters, providing easy water access and a romantic atmosphere. Fill your days with beach trips, spa treatments and snorkeling or scuba diving excursions. If cabin fever sets in, pay a visit to the capital, Malé, where you'll find historic mosques and open-air markets.
Tokyo
Simply setting foot in Japan's cosmopolitan capital is an experience within itself. A city known for its bustling streets and flashing neon signs, Tokyo has an electric energy and plenty of attractions to discover. Foodies won't be let down by the city's fresh sushi and hearty ramen. Budding photographers and adrenaline junkies will love taking in the sweeping panoramas from the top of the Tokyo Skytree. Shopaholics will find plenty of must-have designer products in Ginza. And for history buffs, Tokyo offers centuries-old temples and shrines to explore.
Paris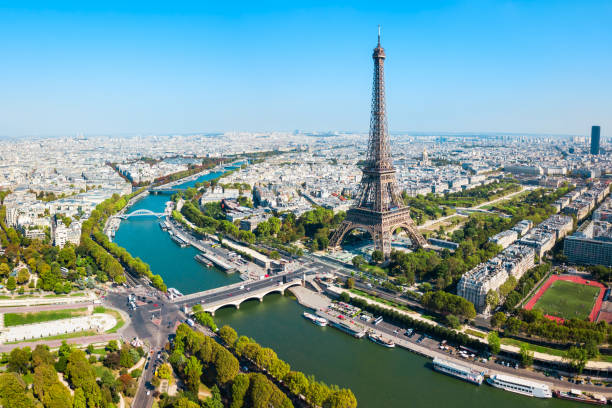 The magnetic City of Light draws visitors from around the globe who come to see iconic attractions like the Eiffel Tower, the Louvre and the Arc de Triomphe. But what travelers really fall in love with are the city's quaint cafes, vibrant markets, trendy shopping districts and unmistakable je ne sais quoi charm. Get lost wandering along Paris' cobblestone streets, or grab a croissant and relax on the banks of the Seine for hours. If you're up for a quick daytrip, head about 15 miles southwest of the city center to another must-see attraction: the Palace of Versailles. READ MORE
Bora Bora
What this small French Polynesian island may lack in size it makes up for in sheer tropical beauty. Here, you'll find picturesque beaches, lush jungles and luxurious resorts. The island's dormant volcano, Mount Otemanu, makes for a great photo-op or challenging hike, and the friendly Bora Bora locals can help you catch a glimpse of the island's best sights during an off-road excursion. To relax, head to Matira Beach for crystal-clear water and soft sand. Although a trip to Bora Bora is very expensive, most travellers say it's worth every penny.
Dubai
Stunning Persian Gulf views, heart-pumping activities and historical landmarks await you in Dubai. This Middle Eastern city is filled with some of the world's most notable and unique attractions, including the Burj Khalifa, the Dubai Mall and indoor Ski Dubai. But the city still holds onto its heritage, as seen in the Bastakiya Quarter and the traditional Gold and Spice souks. When you need a break from the hustle and bustle of the city, head to a sandy shore like Jumeirah Beach, Sunset Beach or Al Mamzar Beach Park.
Marrakesh
Marrakesh is the fourth largest city in the Kingdom of Morocco. It is the capital of the mid-southwestern region of Marrakesh-Safi. Marrakesh is a city that sums up all of Morocco's exotic North African charm. Just soaking up the atmosphere here tops the things to do list, with snake charmers and smooth shop touts both competing for your attention amid a noisy, colorful bustle that encapsulates Morocco's vibrant soul.
For shoppers, this city is famous as a frenzied hub for bargain hunting. For history-loving tourists, the many museums and monuments are some of the country's sightseeing must-dos. And for those who just want to dive into local culture, the medina offers Moroccan life in all its hectic glory.
Marrakesh
Travel to this island – the largest in French Polynesia – if you've been dreaming of a vacation spent lazing in a lavish overwater bungalow. Beyond the posh resorts, Tahiti boasts black sand beaches, a bustling capital and prime snorkeling and surfing conditions. If you're looking for more cultural experiences, check out some of the island's ancient temples or shop at its traditional covered markets. To save money, opt to stay in a vacation rental.
London
London is a world unto itself. The eclectic neighbourhoods, which are home to a blend of historical landmarks and modern-day attractions, can keep you occupied for days. If it's your first time in London, plan to visit the Tower of London, Tate Modern, Buckingham Palace or the British Museum before sitting down to a classic afternoon tea. The best time to travel to London is during the warmer months, but be warned that this is also the busiest and most expensive time of year.