For decades, Green tea has been renowned to be the world's healthiest beverage. Green tea and coffee are both safe and healthy beverages. Although coffee is a better option if you're looking for increased alertness or improved physical performance, Green tea may be a better choice for people with anxiety or insomnia.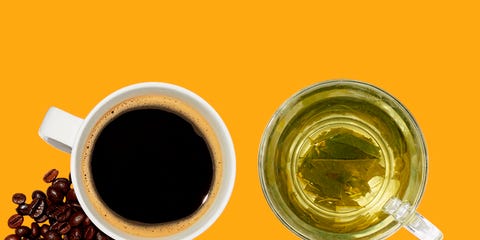 Green tea and coffee provides both benefits of caffeine and antioxidants. Both are also associated with a decreased risk of certain diseases.
However, people with anxiety, insomnia, and panic disorders should consider choosing green tea over coffee due to its lower caffeine content and because it contains L-theanine — an amino acid that promotes a state of calm alertness.
Coffee
Coffee can help people feel less tired, increase energy levels, increase fat burning, boost your metabolic rate, stimulate your nervous system, and aid fat cells to break down body fat. Coffee is also quite high in antioxidants, you would get more antioxidants from coffee than from fruits and vegetables combined.
Green tea
Green tea can increase fat burning, boost metabolic rate, improve insulin sensitivity, and reduce blood sugar levels. It is also loaded with antioxidants that have many health benefits, which may include: improved brain function, fat loss, protecting against cancer, lowering the risk of heart disease, Green tea contains a catechin called epigallocatechin-3-gallate (EGCG). Catechins are natural antioxidants that help prevent cell damage and provide other benefits.
These substances can reduce the formation of free radicals in the body, protecting cells and molecules from damage. These free radicals play a role in aging and many types of diseases.