Lagos is Oshodi, Lagos is Ajegunle, Lagos is Obalende; but then, Lagos is also Victoria Island, Lagos is Lekki; and now, the future of Lagos is Eko Atlantic City and The Great Wall of Lagos. So basically, we have heard of great walls in history, but this one right here, was built to serve.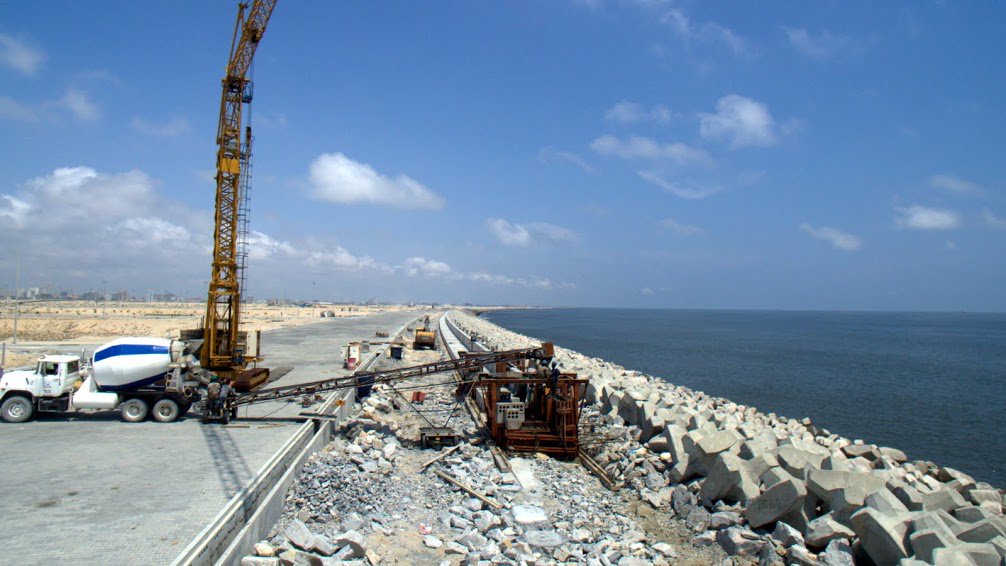 Besides the Atlantic Ocean, there are about 10 lagoons in Lagos State. The Lagos islands are separated by creeks, fringing the southwest mouth of Lagos Lagoon, while being protected from the Atlantic Ocean by barrier islands and long sand spits such as Bar Beach, which stretch up to 100 km (62 mi) east and west of the mouth. Bar Beach, along Ahmadu Bello way, was once upon a time the most popular beach in Nigeria.
Then trouble came in 2005. The coastal city of Victoria Island in Lagos was in imminent danger of being overwhelmed by ocean surge from the Atlantic Ocean. The coastal road, Ahmadu Bello Way, had collapsed into the ocean after the adjacent Bar Beach had been completely eroded away. So it became a really urgent need for Lagos State to tackle the constant destruction to lives and properties.
Led by Ronald Chagoury, Chairman of South Energyx Nigeria Limited, the city planners and developers of Eko Atlantic City, The Great Wall of Lagos was born. It was built as a sustainable solution to the constant erosion that affected the metropolitan part of Lagos State, and designed to withstand the worst storms in 1,000 years . To prevent further coastal erosion, Lagos State and the Eko Atlantic City is now protected by the 8.5 kilometer-long and 12.5m wide sea wall. The wall currently protects over 6 million square metres of Eko Atlantic and Victoria Island.
The Great Wall of Lagos sea revetment stands at eight-and-a-half metres above sea level and has a promenade built on it which provides a tremendous amount of recreational space to residents and a large parking space for non-residents looking to take advantage of the ocean front open area and impressive ocean views.
The infrastructure within the city include a 1,500m long 8-lane boulevard and tree-lined streets, well-planned road network, an underpass to curb traffic within and outside the City, mariners which can accommodate about 300 vessels, an independent clean and treated water supply that meets the WHO standard, well-planned sewage collection system, underground surface drainage pipes that pass water back to the ocean, underground storm drainage pipes, sewage treatment plan which converts sewage to fertilizer, tree nursery with the capacity to produce a minimum of 250, 000 trees, independent reliable electricity, advanced fibre optic telecoms, and clean water utility services installed below street level, and 15 bridges.
The street lamp posts were made from the best concrete in Ibadan and locally sourced. The lights are LED bulbs, chosen for better illumination and consumption of less energy compared to incandescent bulbs.  Eko Atlantic City would also be home to the largest shopping mall in Sub-Saharan Africa, and a world-class international school.
The Atlantic City is designed to provide the space and infrastructure to house 250,000 residents and become the workplace for about 150,000. The City will satisfy financial, commercial, residential and tourist accommodations, with infrastructure in line with modern and environmental standards.
The existing buildings in the City include the Azuri Peninsula, a unique steel and concrete residential building project that consists of three sets of over 30 storey towers; Eko Pearl Towers; Eko Energy Estates. There would be townhouses in place to promote affordable housing.