Admittedly, life could be as hard as well as it could be so much fun. At times we encounter setbacks and road blocks without realizing we are the ones responsible for them. There are certain phases in our lives where we compromise by letting go of some ethical behaviors, morals, and disciplinary beliefs so as to conform to the situations we find ourselves at that particular time, either to fit in or to save the day.
These situations could be amongst friends, love life, work, career and ambitious goals, or even moral standards. Although it's not in all cases that these compromises might be detrimental to your life's goal, emotion, career, or relationship life, but what if they could actually affect you?
Let's take a look at these few situations:
Seeking validation
Seeking validation kills your dreams, your confidence, and it also causes you to constantly live in the shadow of others; you would always feel like you are not good enough. How am I seeking validation? You ask.
Seeking validation starts as low as asking if your dress is nice, if people notice you or not when you walk into a room, if the pictures you post on your Instagram/twitter doesn't get as much likes or reactions as you expected, or your friends didn't comment on that really nice stuff you posted on your WhatsApp status; so you decide to delete it. Seeking validation is that little voice in your head that says "what if they don't like it". That moodiness and insecurity that kicks in when someone doesn't reply your text on time or leaves you on read, that makes you feel less of yourself, is seeking validation. STOP IT
Being confident and comfortable with yourself is an attractive quality. By becoming self-assured and confident rather than seeking the validation of others, you will more likely gain the approval that you don't even need.
Staying in your comfort zone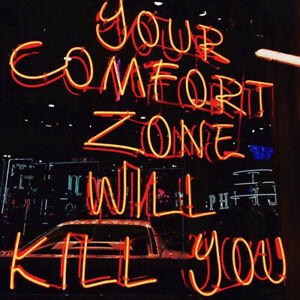 Staying in your comfort zone and "playing it safe" in situations where you are meant to break all out by taking certain risks, will only leave you stranded and helpless. Most people find it easier to get comfortable with a certain amount of "comfort" so long as there's food, fun, and a sort of bliss. This comfort keeps them from exploring their full potential and try to be more than they already are.
There are certain circle of friends you keep, that simply make you settle; even relationships. If you are the type that needs a constant push before you can get things done, then you need a circle of friends whose lifestyle would also propel you to want to achieve greater things in life.
It requires a lot of energy, perseverance, motivation, and risk taking to break out of that comfort you are familiar with, and a lot of people are scared of losing that.
Not everyone has success served to them on a platter, you might have to work hard, learn hard, and go the extra mile for it; but first, you need to leave that comfort zone. Take a chance on yourself and on your dreams. You are extremely strong and capable, and your dreams are extremely worth the gamble.